Dual Shooter Stalls by Mobile Range Technologies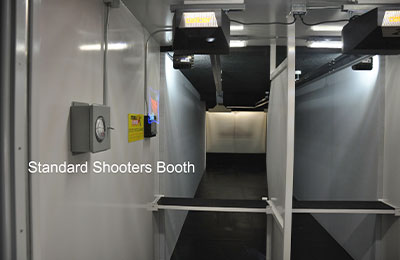 Whether you are a commercial customer looking to increase revenue or a government agency seeking to get the most out of a skimpy training budget, Mobile Range Technologies offers superior shooting range options designed to provide state-of-the-art technology at a customer-friendly price.
At the top of the list of cutting-edge options is our dual shooter stall design. Each stall features integrated folding shooter shelves. You can choose between 360-degree target retrieval systems or a standard target retrieval system by Caliber Target Systems.
Designed to meet or exceed all applicable federal and state environmental and safety regulations, our side-by-side lanes are ideal for firearms qualification and shoot/don't shoot training scenarios. 
Benefits of a Portable Gun Range
In addition to cost savings, our Container Modular Firing Range (CMFR) and Mobile Trailer Firing Range (MTFR) offer several benefits over traditional brick-and-mortar ranges because they are:
Moveable: Both the CMFR and MTFR are easily moved to accommodate changes in venue or location and occupy much less space than traditional ranges.
Scalable: CMFR and MTFR have two lanes, making it simple to expand from a small location to a larger one by integrating more lanes based on demand.
Deployable: CMFR and MTFR can be easily deployed to off-site locations for training operations much more rapidly and easily than other options.
Safe: CMFR and MTFR meet and exceed all federal standards for safety and health in key areas such as ventilation, noise, and operations safety.
Versatile: CMFR and MTFR offer 360-degree target retrieval systems and full-spectrum firearms simulation.
Quieter: CMFR and MTFR are double-insulated and include sound-reducing materials to reduce noise for the shooter and the environment.
Accountable: CMFR and MTFR are 100% armored (floor, walls, ceiling) to ensure no round escape the facility, allowing them to be recycled.
Trust Mobile Range Technologies to Improve Your Shooting Experience
When you are ready for a better experience at the gun range, choose Mobile Range Technologies. Our company offers a robust, affordable solution for customers seeking a better option than a traditional range at a lower cost.  Contact us online or give us a call at 940-500-2086 for more information.