Target Retrieval System by Caliber Target System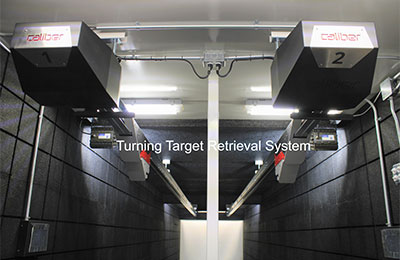 Design Focused on Safety and Efficiency
Have a totally upgradable system from non-turning to turning on the same platform.
Mix and match non-turning and turning systems in the same range and be controlled from 1 master control.
Designed a target carrier without a downrigger and clamp. (This is the most damaged part on other systems)
All our systems are electrical safety inspected and comply with UL, CSA and CE standards.
Offer a 3 year warranty. We stand by our design and craftsmanship.
Commercial customers are assured that MRT products meet and exceed safety requirements because our design is driven to meet the most stringent FedGov requirements while fully implementing best commercial practices.
Government customers are assured that MRT has leveraged the best of commercial technology and responsibly designed to meet / exceed all FedGov criteria using a lean, optimized manufacturing process to assure lowest possible lifecycle cost.
Benefits of a Portable Gun Range
In addition to cost savings, our Container Modular Firing Range (CMFR) and Mobile Trailer Firing Range (MTFR) offer several benefits over traditional brick-and-mortar ranges because they are:
Moveable: Both the CMFR and MTFR are easily moved to accommodate changes in venue or location and occupy much less space than traditional ranges.
Scalable: CMFR and MTFR have two lanes, making it simple to expand from a small location to a larger one by integrating more lanes based on demand.
Deployable: CMFR and MTFR can be easily deployed to off-site locations for training operations much more rapidly and easily than other options.
Safe: CMFR and MTFR meet and exceed all federal standards for safety and health in key areas such as ventilation, noise, and operations safety.
Versatile: CMFR and MTFR offer 360-degree target retrieval systems and full-spectrum firearms simulation.
Quieter: CMFR and MTFR are double-insulated and include sound-reducing materials to reduce noise for the shooter and the environment.
Accountable: CMFR and MTFR are 100% armored (floor, walls, ceiling) to ensure no round escape the facility, allowing them to be recycled.
Let Mobile Range Technologies Improve Your Shooting Experience
When you are ready for a better experience at the gun range, choose Mobile Range Technologies. Our company offers a robust, affordable solution for customers seeking a better option than a traditional range at a lower cost.  Contact us online or give us a call at 940-500-2086 for more information.