Mobile Gun Range Plans & Specifications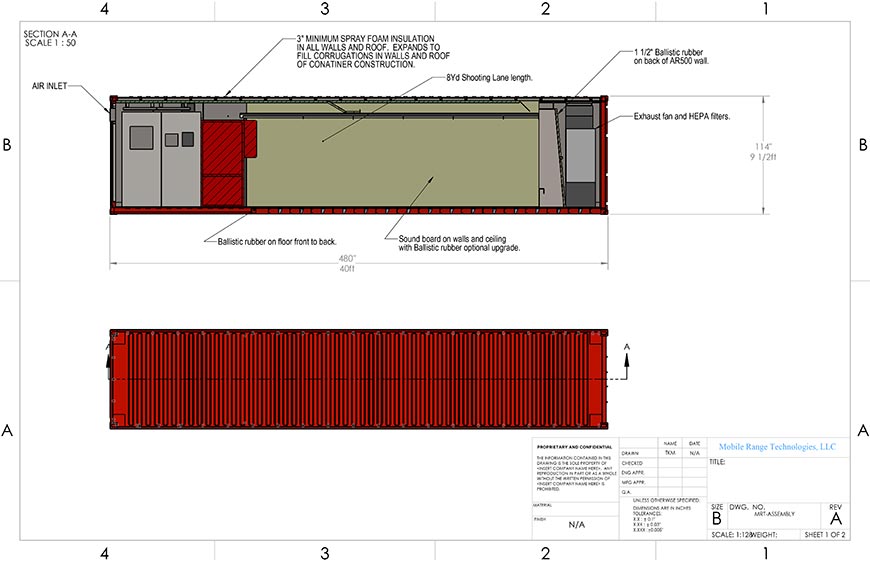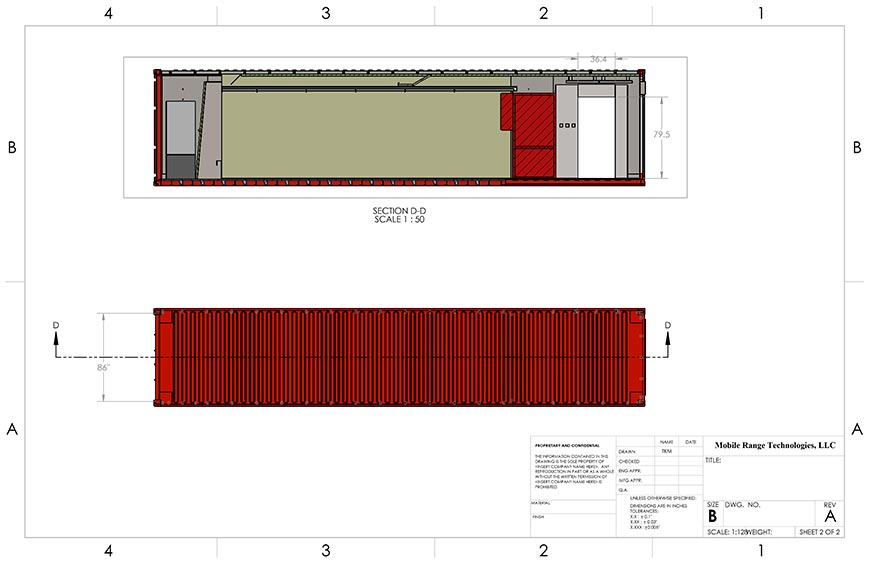 To see the full layout/dimensions, click here.
Standard Features
40' Pistol Container (most common pistol calibers not rifle caliber pistols) Firing Range 360⁰ armor plating with:
✓ 2 Shooting Booths include 2 LED Lights per booth plus LED target lighting,
✓ Shooters Shelf that folds up flush into wall,
✓ 2 Shooting Lanes - 8 yards with touch screen controlled wall mounted target retrieval system (patent pending)
✓ MRT Bullet Trap (patent pending)
✓ MRT HEPA Air Filtration (patent pending) with 4 ton AC/Heat pump we use 100% outdoor air that passes across the shooters.
✓ Spray foam Insulation
✓ 2" Sound Foam on Ceiling and 1.5" of sound absorbing rubber on walls (firing line forward),
✓ Rubber Floor
✓ Meet / Exceed Federal Standards
✓ Easy to clean Stainless Steel up to Firing Line
✓ 100% Built-In Controls Throughout
✓ All Components Built-In to Walls
✓ Only needs 50amp 208/220 circuit
✓ 1-year warranty,
✓ Customers Choice of Exterior Paint Color and
✓ Free Training in Wichita Falls TX. Want amobilerangeadd a trailer line 5 TRLR-100 and fully self-contained mobile range ad line 4 GEN-100.
Optional Features
| | |
| --- | --- |
| TRS-100 | Turning Target Retrieval Sys |
| TL-100 | Fully Integrated Live Fire Simulator |
| GEN-100 | Generator, Tank, Mounts, Battery |
| TRLR-100 | 40' Semi-Trailer |
| CAM-100 | Camera Group (3 Cameras & recorder) |
| INT-100 | Intercom System (container only) |
| TI-V23 | Lane Simulator |
| MRT gate | MRT Tactical Training Gate |
| STAIR | Alum. stairs |
| TRN-100 | Training – Your location |
| DCL-100 | Customized Decals |
| EXT-100 | Extreme climate control system |