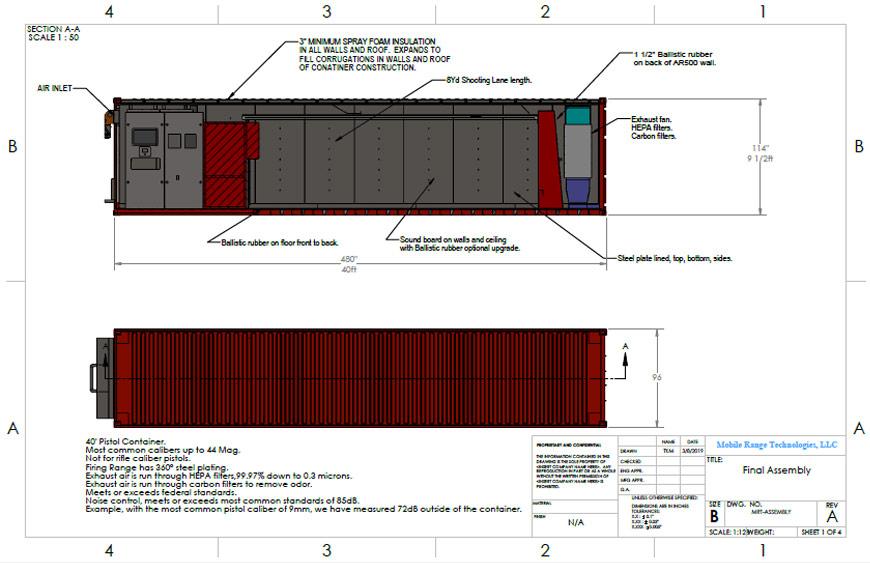 To see the full layout/dimensions, click here.
Includes all the Following in Base Price:
✓ Pistol Rated (Most Common Pistol Calibers up to 44 MAG Not Rifle Caliber Pistols), We Make it Affordable to Upgrade to Rifle Rated at Time of Order (See Option)
✓ 360⁰ 1/4" Steel Plate Plating Meeting NIJ Level IIIA (STD-0108.01)
✓ 2 Shooting Booths With 2 LED Lights per Booth Plus LED Target Lighting
✓ 2 Removable Shooter Shelves
✓ 2-8 Yard Shooting Lanes
✓ Center
Rail Target Retrieval System
✓ MRT Bullet Trap with Replaceable Wear Plates
✓ MRT HEPA Air Filtration System with 4 AC and Heat
✓ Insulated Between Framing and 1" Drywall Between Framing and Container to Reduce Exterior Noise
✓ 2" Sound Foam on Walls and Ceiling (Firing Line Forward)
✓ Rubber Floor
✓ Easy to Clean Painted Surface up to Firing Line
✓ Only Needs 50amp Single Phase Power
✓ 1-Year Parts Warranty
✓ Free Training. Specs subject to change
Contact Us for pricing
Email
scott@mrtrange.com
or call
940-500-2086
for pricing.