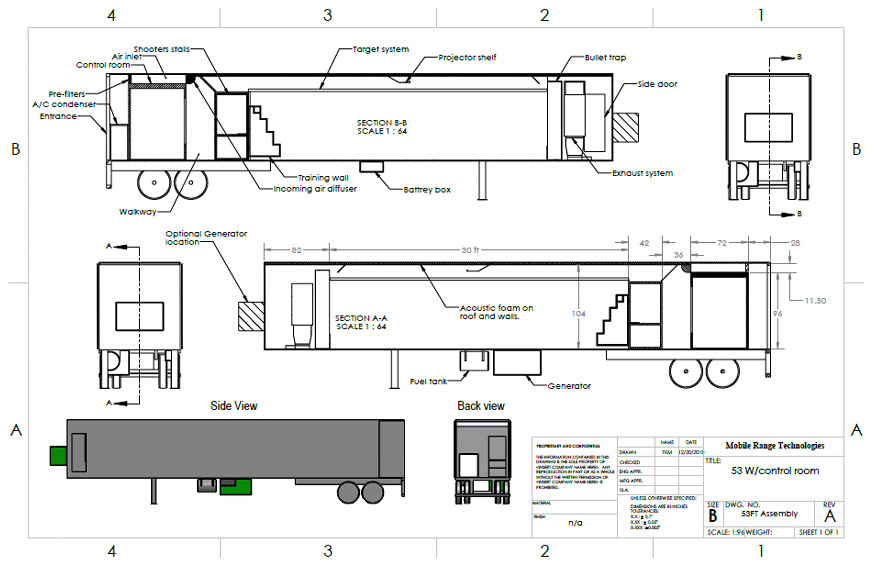 To see the full layout/dimensions, click here.
53' Range With Control Room
Includes all the Following in Base Price:
✓ Pistol Rated (Most Common Pistol Calibers up to 44 MAG Not Rifle Caliber Pistols)
✓ We Make it Affordable to Upgrade to Rifle Rated at Time of Order (See Option)
✓ 360⁰ V2 Ballistic Steel Plate Plating Meeting NIJ Level III (STD-0108.01)
✓ 2 Shooting Booths With 2 LED Lights per Booth Plus LED Target Lighting
✓ 2 Removable Shooter Shelves
✓ 2-12 Yard Shooting Lanes (10 Yards with Control Room Option)
✓ Center Rail Target Retrieval System
✓ MRT Bullet Trap (Patent Pending)
✓ MRT HEPA Air Filtration System (Patent Pending) with 4 ton AC/Heat Pump
✓ We Use 100% Outdoor Air That Passes From Behind Shooter Then Down Range Where the Air is Pre-Filtered Twice and Then HEPA Filtered Before Discharging Back Outside
✓ Insulated Between Framing and 1" Drywall Between Framing and Container to Reduce Exterior Noise
✓ 2" Sound Foam on Walls and Ceiling (Firing Line Forward)
✓ Rubber Floor
✓ Meets / Exceeds Federal Standards
✓ Easy to Clean Stainless Steel up to Firing Line
✓ Only Needs 50amp Single Phase Power (70amp with Control Room) ✓1-Year Parts Warranty ✓ Free Training. Contact Us for pricing
✓ Free Training.
OPTIONS
Turning Target Retrieval System
Programmable TRS Upgrade
Fully Integrated Live Fire Simulator
Control Room
MRT Tactical Training Gates (2)
RIFLE RATED UPGRADE
Rifle Rated Bullet Trap, Exterior Door and Shooting Stall (up to 308win) Meeting NIJ Level III (STD-0108.01)
MAKE IT A MOBILE RANGE New Trailer
12KW Generator Package
Optional 53' Dry Van Trailer